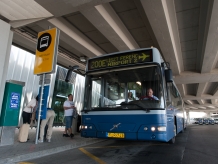 200E – Bus Stop at the Airport
At the airport, after you come out from the arrival hall take the bus nr. 200E then:
– On weekdays at Nagyvárad tér change to M3 Metro line then ride till Arpad hid Metro station.
– On weekend at Kőbánya-Kispest Metro Station change to M3 Metro replacement bus then ride until Lehel square and then until Arpad hid Metro station by M3 Metro line. This takes about an hour. Then just walk straight ahead, up the middle stairs (direction of Bus 26).
.. -> How to find us 
Monday-Sunday: 4:00–23:00 · in every 8 minutes
Another option from the airport is the bus nr. 100E (with special single ticket) until the very centre, from there by M3 Metro line.
Remark: One station before Kőbánya-Kispest there is another station called 
Kőbánya-Kispest P+R
.
In spite of the fact that there are signs there 
showing the direction to M3 Metro line, w
e do not recommend to take off here as two minutes later from the next bus stop (called 
Kőbánya-Kispest M
) you can reach the metro more comfortably.
At the baggage claim area of Budapest Airport, you find ATMs, Money Exchange and Airport Shuttle booth. You can also collect a map of Budapest, the public transport map and other useful information brochures.