Our apartments are situated at Pest side of Árpád Bridge in Budapest at the Árpád híd Metro Station along the M3 Metro line (blue). If you arrive through Arpad-hid Metro Station just walk straight ahead, up the middle stairs (direction Bus 26).
Now the metro is under reconstruction so nowadays you arrive by replacement bus M3 (Metro 3) or tram No. 1.
The address of the apartment building is: Teve utca 1/d I. lépcsőház (1/d 1st staircase or otherwise it is called also as building "F", see the sign "NOA ÁRPÁD-HÁZ F") Budapest H-1139.
Tel: +36 30 366 1466 (WhatsApp and Viber, too)
We kindly suggest to use our free express check-in service.
Please, come to this address by M3 Metro line, by tram, by bus, by taxi or by your own car.
Arriving From The Airport by:
GPS coordinates of the entrance : 47.532302°, 19.069788°
Arpad hid Metro Station            : 47.532596°, 19.067418°
From 4 November 2017, on workdays between 4:30–20:30 metro line M3 is replaced by buses between Lehel tér and Újpest-Központ stations.
Metro line M3 is replaced by buses on its entire route on weekday nights (past 20:30) and at weekends. Metro replacement buses will depart in every 45 seconds in peak hours.
Metro replacement buses will arrive to the bus station marked with M3A on the photo below. (Bus stop in the direction of the city center is at another place. See the post here.)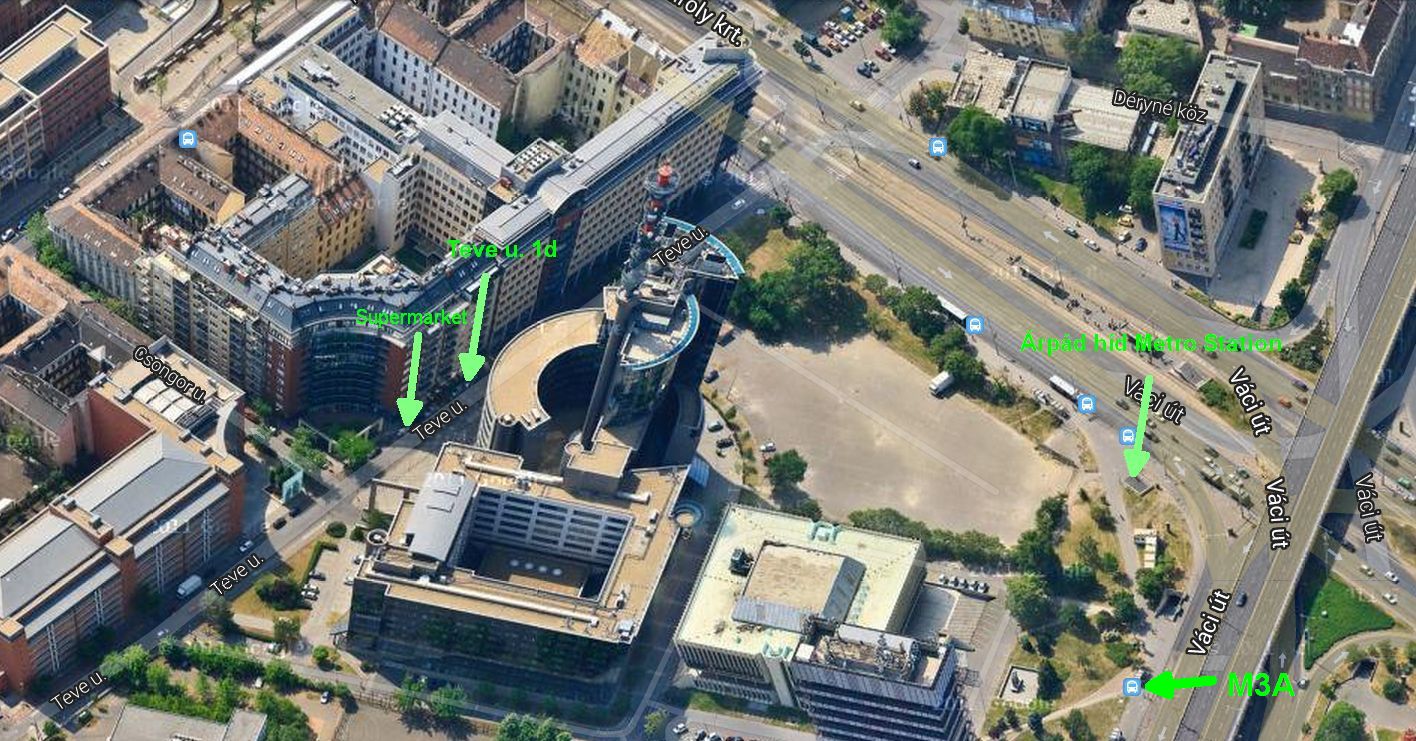 We are living on the 9th floor of this staircase so we are waiting for you in the pre-arranged time, so please be sure that you are at the entrance of Teve utca 1/d I. lépcsőház (NOA F) at the entrance signed with the name of the property (ARPAD BRIDGE APARTMENTS), not at the other staircase Teve utca 1/D II. lépcsőház (NOA E).

360° panorama and virtual tour from the entrance
 


At the entrance please ring "

Arpad Bridge Apartments

" using the keypad (press 9, 1 and wait) or call us by phone or send a text message (

+3630-3661466

). We will welcome you and guide you to your apartment.